The main page of the Safety Publications Tool application is where you can see the list of ADs (Mandatory Continuing Airworthiness Information – MCAI), sorted by issue date in descending order. The most recent ADs are displayed at the top of the list.
This list displays all EASA ADs, EADs and PADs, as well as EASA endorsed ADs and EADs issued by Foreign State of Design Authorities.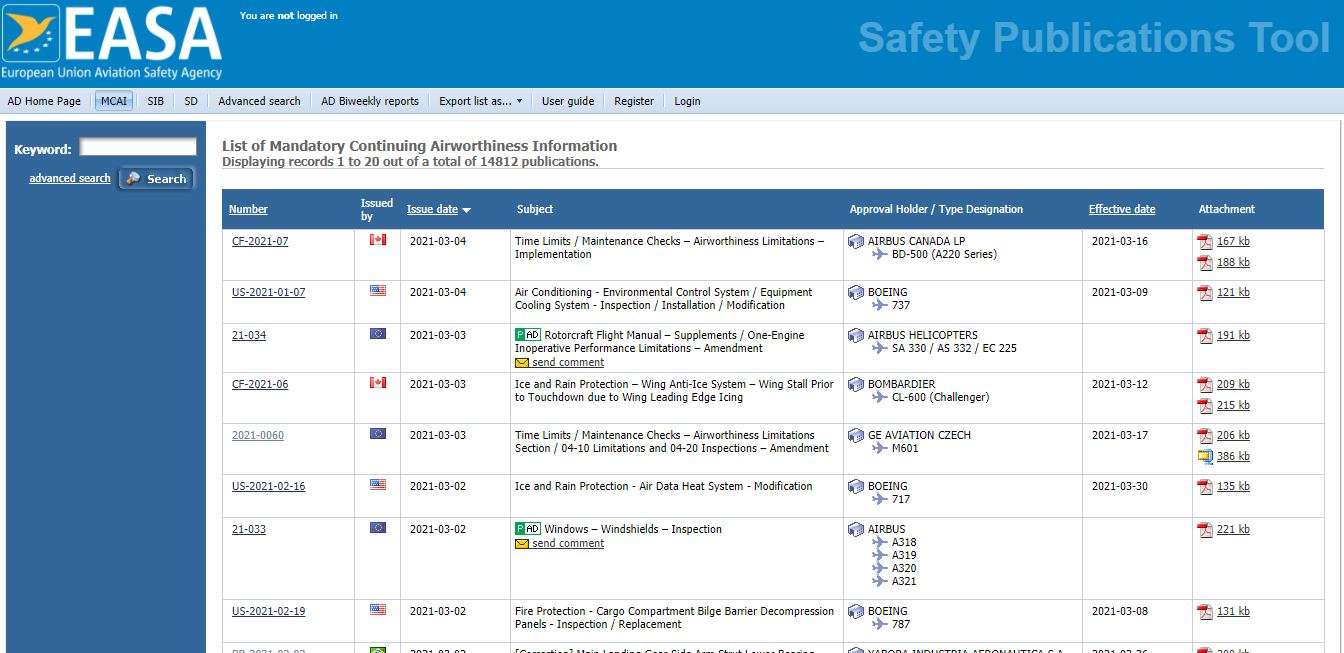 On the top of this page you can see a toolbar which allows you to perform various actions: View 'MCAI', View 'SIB',View 'SD', perform an 'advanced search', view past biweekly reports, export the current list of publications, read the online version of the user guide, 'register' and 'login'. Depending on the page you are currently in, some of these actions may not be available.
To the left, you can specify a keyword to search for in the title or any field of the ADs.
From left to right, the table of ADs contains the EASA AD number, the issuing country/entity, the date the AD was issued by EASA, the subject of the AD, the list of Approval Holders and Types affected by the AD, the date the AD becomes effective, and the actual documents of the AD in PDF format (or ZIP archives containing multiple associated PDF files).
The list of ADs is limited to 20 ADs per page. Depending on the filter defined by the user, the list may extend to more than one page. To navigate between these pages, use the buttons at the bottom of the page.
You can change the field to sort on, by clicking on any of the underlined column headers. The arrow next to the header indicates the sorting order (ascending/descending).
Clicking on an underlined AD number will take you to a page with more details about this AD.